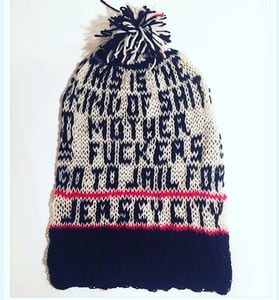 $

40.00
This is a knit hat made from a quote by a Fulop admin member during a bid rig scandal. It was accidentally recorded on someone's voicemail when he thought he'd hung up the phone. So classy. So JC. Remember to always put that phone down, people.
Hand knit in superwash merino with handmade pompoms. It takes me a few days to make one since I have to go to work and so forth, so stay tuned. I'll post them when they're available - keep checking back.
One size fits almost every adult (seriously).